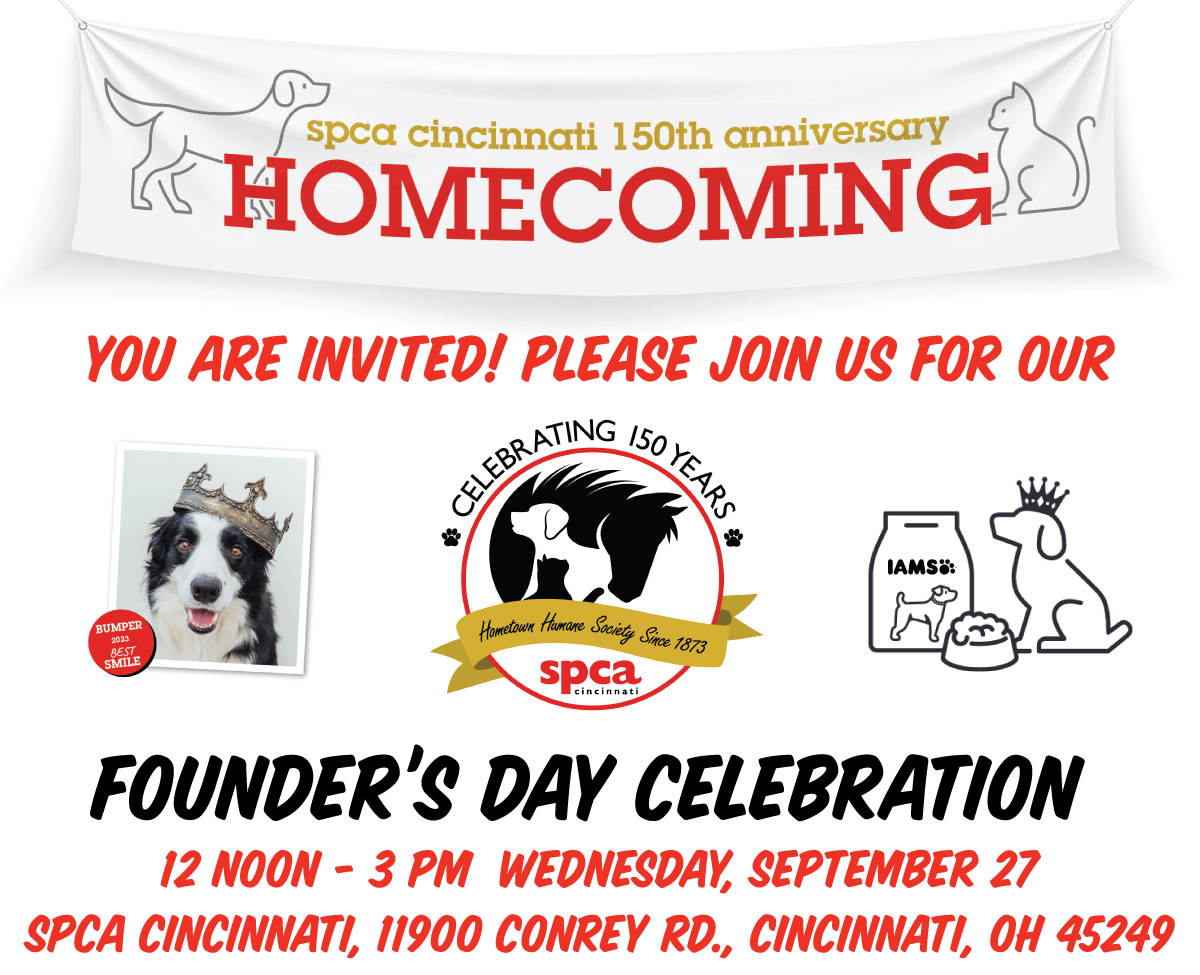 Our Homecoming Court has been selected! The top two vote-getters, regardless of gender, will be awarded Homecoming Royalty and will each win a year of free IAMS™ pet food (12 bags of food)! Winners (King & Queen) must be present at our Founder's Day event on Wednesday, September 27 at 12 Noon to accept their winnings or their prize will go to the pet with the next highest number of votes. We are looking forward to seeing the Homecoming Court at the event as well!

Whether you are part of the Homecoming Contest or you just love animals, we'd like to invite you and your family to join us from 12 Noon to 3 PM, Wednesday, September 27th in the parking lot of SPCA Cincinnati, 11900 Conrey Road, Cincinnati, OH 45249 for a special Founder's Day Celebration. Parking is free, just next door at Francis RecreAcres Park.

Don't miss our special short program at 12 Noon, where we will announce our Pet Photo Contest Homecoming Court. We will also crown our pet King and Queen - the winners of IAMS™ dog/cat food for a year! Other exciting activities planned:
FILL THE HOMECOMING FLOAT!
Bring pet food or supplies to support our Chow Now Pantry. You can also donate via our Amazon Wish List here!
FOOD TRUCKS
NOTHING BUNDT CAKES (for the first 150 guests)


$15 DOG ADOPTIONS
All day Wednesday, September 27th (only) in honor of 150 years.
Cat adoptions will remain at $10.
HISTORICAL GALLERY TOURS
BEHAVIORAL DEMONSTRATIONS
from Jeff Adler of Off Leash K9 Training, LLC

Our dear friends from WGRR, CHRIS O'BRIEN & JANEEN COYLE (Frank's Friends), will be present for music and fun

We hope to see you there!


Mike Retzlaff
President & CEO
SPCA Cincinnati