Fur Ball 2020: The Great Catsby
Aug 29, 2020
Week-long event with a live event August 29th at 6 p.m.

SILENT AUCTION AND RAFFLE OPEN TO ALL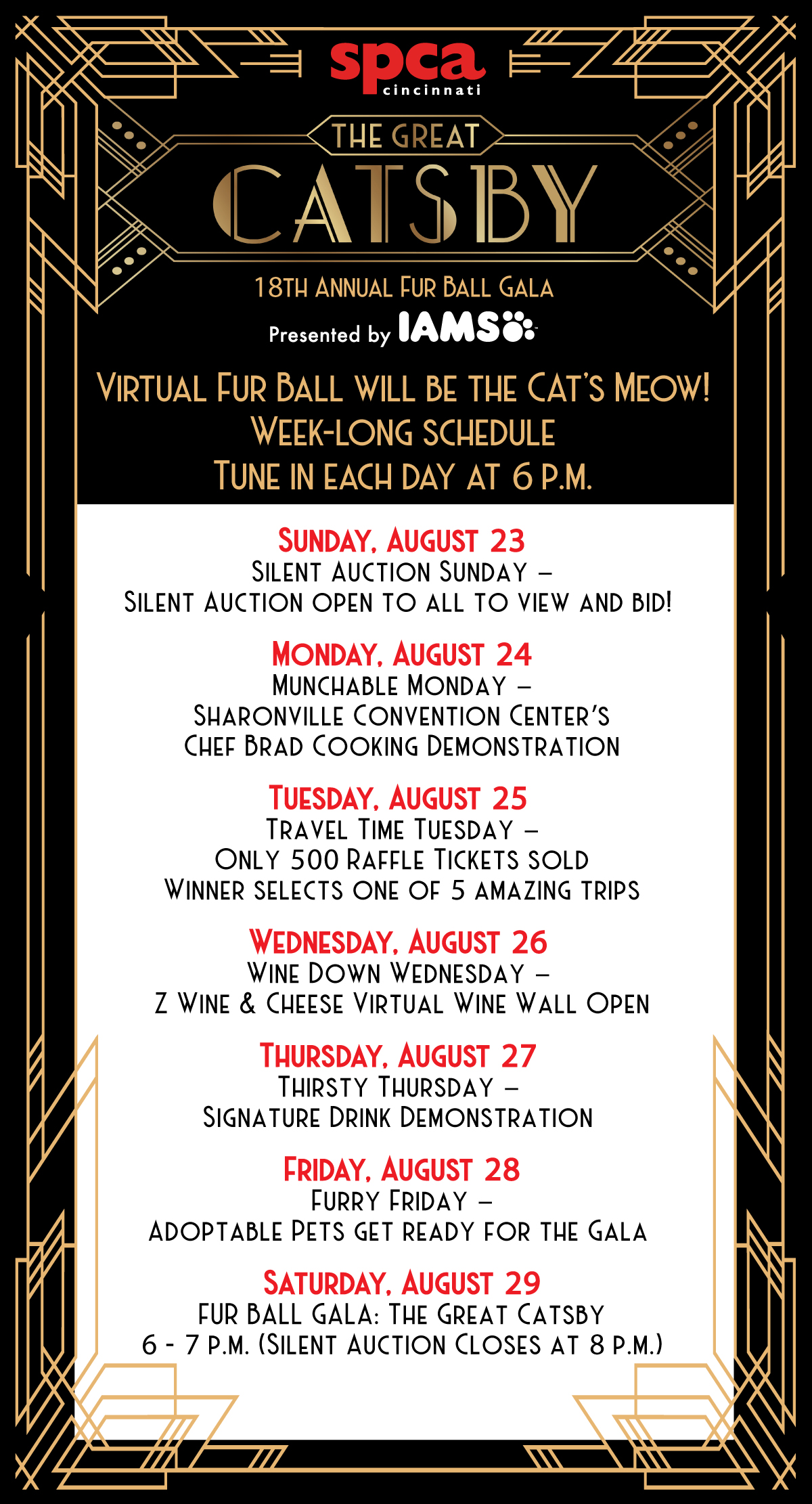 Dear SPCA Cincinnati Supporters,

We hope you and yours are safe and healthy during these unique times. Our teams have been working diligently to keep all our pets safe and adopted into homes as efficiently & effectively as possible.

BIG EVENT NEWS! The SPCA Cincinnati's annual Fur Ball Gala is going virtual for the first time in our history. After much deliberation and in an effort to move forward safely amid COVID-19, we decided to have a week-long event!

Beginning Sunday, August 23, The Great Catsby will kick off with a full week of Fur Ball virtual activities, culminating for our online, LIVE Gala, Saturday, August 29, 2020 at 6:00 p.m.

The SPCA's Fur Ball week will allow for a virtual experience to engage with a larger audience, for our highly anticipated community event, continuing its tradition of excitement, entertainment and collective effort to save more animal lives in the Greater Cincinnati area!

We look forward to bringing the party to you online, all week long. Although the SPCA's Fur Ball gala may look different this year, it will not disappoint. From the silent auction, trip raffle, testimonials, rescue stories, and adoptable pets, the ability to see our community come together in a unique way for the first time – you'll be impressed (as well as inspired) from the comfort of your home.

Fur Ball is the SPCA Cincinnati's largest fundraiser to help care and shelter nearly 12,000 animals that enter our doors each year. The format to Fur Ball may have changed but the need has remained the same – our animals need YOU to be their voice.

Thank you for joining together to make a difference and save more animals' lives!



Jake White
President & CEO

Thanks to all our Fur Ball 2020 sponsors for helping to make SPCA Cincinnati's 18th Annual Fur Ball, The Great Catsby possible!
For more information, contact Trent Owens at (513) 489-7392 or towens@spcacincinnati.org