Fur Ball Sponsors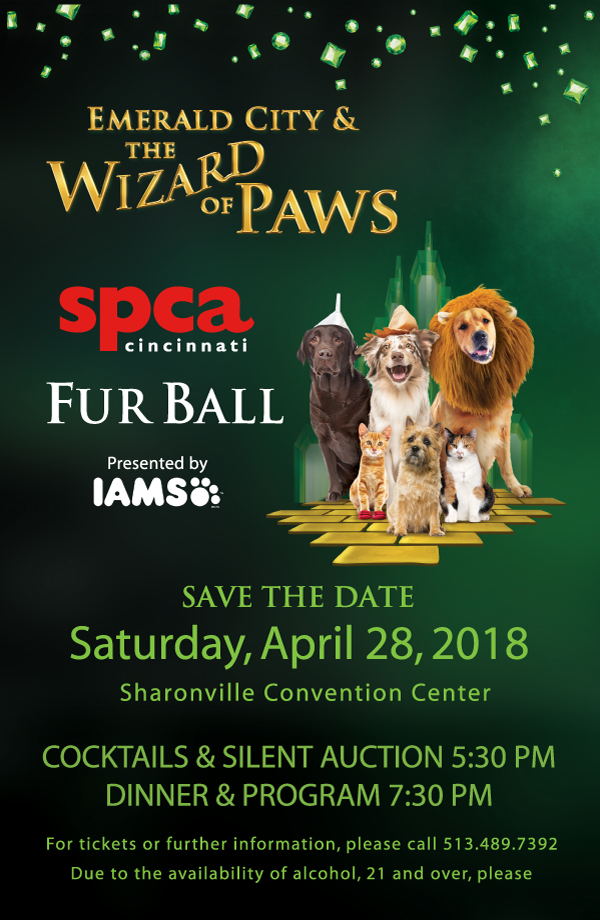 Looking for photos of the evening?
We are proud to have IAMS™, a MARS brand, for yet another year of sponsorship and support of shelter pets across our great city. They have been a valued partner for the past two decades sponsoring our Adopt-A-Pet Fund, Fur Ball, and others. Their dedication, support, and commitment to donating truckloads of dog and cat food over the years has helped provide critical nutrition and answered the needs of our shelters for tens of thousands of animals in our care.
Bounty is "The Official Quicker Picker Upper of spca cincinnati." We are excited to be partnering with them and their supply of Bounty paper towels for our shelters will ensure a better place for all of our animals. Our staff uses Bounty paper towels daily in both of our shelters and on our mobile adoption units. They will also be supporting us by joining us at our 16th Annual Fur Ball Gala as our Platinum Sponsor. We are grateful for their support and partnership!
Enerfab has a history of supporting spca cincinnati's Fur Ball Gala and we are glad to have them back again this year in 2018. Enerfab leads the way in construction management, capital equipment, maintenance services, and technology solutions to the energy industry and other industrial markets around the globe.
Mason Company has provided kenneling and critical care units for each of our shelters. The company sponsors Fur Ball and a number of our special events. Greg Taylor, CEO and President of The Mason Company, LLC has been a wonderful friend to our animals and we're grateful for the friendship and support.
The City of Sharonville & Sharonville Convention Center is in its 6th year sponsoring as the home for spca cincinnati's Fur Ball Gala. In addition to providing an amazing venue for our premier event, they also support spca cincinnati at other events throughout the year.
Peter J. Kambelos, M.D., F.A.C.P. and President of Seven Hills Medical Arts, Inc. established his Internal Medicine practice in Green Township. He is the Past Secretary and Past President of the Academy of Medicine of Cincinnati. A devoted advocate for animal welfare, he enjoys the company of both dogs and cats! Along with serving on our Board of Trustees, Dr. Kambelos is a major sponsor of our Adopt-A-Pet Telethon and our signature event, The Fur Ball.
For many years veterinarians and staff at Miamitown Pet Hospital have spayed and neutered pets to prepare them for adoption at spca cincinnati. Led by Dr. Michael Frederick and others, the staff welcomes many injured and abused animals from spca cincinnati addressing urgent care needs before altering surgery. Thanks to the Miamitown Pet Hospital, we are able to place more animals into forever homes.
A proud member of the greater Cincinnati Community since inception, the O'Rourke Family of Companies has contributed through volunteer work and contributions over the years. O'Rourke Wrecking Company is sponsoring the 2018 Fur Ball Gala and has also sponsored the Fur Ball in the past. Michele O'Rourke currently serves on spca cincinnati's Board of Trustees.
Prestige AV & Creative Services has partnered with spca cincinnati to produce the most professional events possible. Their support extends to sponsoring nearly every event we host, and we are thankful for their continued support.
Judy Recker serves on the Board of Trustees at spca cincinnati. Her involvement only begins there! She has acted as chair for our Fur Ball for several years, and is always an integral part of the success of that event. In addition, she participates as a sponsor for every special event spca cincinnati hosts. Judy is a true animal lover and can be found looking for her next canine friend, or just cuddling with kittens in our lobby year-round.
More Fur Ball Sponsors: