Tune in for Adopt-A-Pet Fund 2017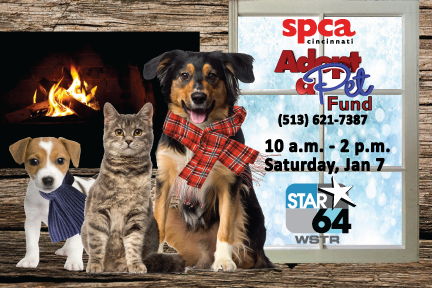 Thanks to all our Adopt-A-Pet Fund sponsors, with special thanks to our Title Sponsor, IAMS/MARS Petcare, an invaluable supporter of spca cincinnati that donates thousands of pounds of food to our animals so we can provide them with high-quality consistent nutrition while they are in our care.
We have an exciting show for you on WSTR - Star 64, so tune for the live remote with Chris & Janeen from WGRR, and all your local favorites at Local 12, including John Lomax, Liz Bonis, John Gumm, Jen Dalton, Adam Clements, Bob Herzog, Paula Toti, Brad Johansen, Sheila Gray, Scott Dimmich, Joe Webb, Angenette Levy, and Sydney Benter.
So many exciting things are happening here at spca cincinnati! You'll learn more about what we do on a daily basis and how we care for our animals. You will get to meet some of our veterinarians who tend to our rescued animals every day. Watch as they perform hands-on medical care and learn just how important dental care really is for our pets. You'll also get an insider look into the grooming area where you'll meet some of our animals getting ready for adoption and their forever home – some of them have quite amazing transformations!
You will also meet and hear from one of our own Humane Agents, and how they serve the Greater Cincinnati community as they Protect and Assist. We'll also see how animals and humane education are impacting the lives of school children (and vice-versa)! Chris and Janeen will introduce our wonderful cats up for adoption, there will be many touching adoption stories, a look at "Kitty City" at our Northside facility, vintage Adopt-A-Pet memories, training, and much more.
Tune in and spend some time with us on Saturday, January 7 from 10 a.m. – 2 p.m. on WSTR - Star 64!