Watch the Cincinnati Chamber Orchestra's Summer "Barkestra" series!
Cincinnati Chamber Orchestra Partners with the SPCA Cincinnati
for the "Summer Barkestra Concert Series"!

The Cincinnati Chamber Orchestra (CCO) will surely get a round of paws filled with woofs and meows for incredible performances at the SPCA Cincinnati! The CCO will be delivering six consecutive weeks of performances every Thursday, starting on May 28th with the last performance on July 2nd.You are cordially invited to watch the first session on Thursday, May 28th at 1 p.m. on SPCA Cincinnati's Facebook Live.

The CCO will be playing at the SPCA Cincinnati in Sharonville. While we are not open to the public (aside from scheduled adoption appointments), we hope you will join us for this event online. This "noteworthy" occasion will happen for the first time in SPCA history; it will be a priceless moment to witness!

The CCO reached out to the SPCA Cincinnati in hopes of making a contribution of unique programming, intended for enrichment to homeless pets in our care. We were immediately excited about the opportunity to have musicians perform live at our facility. "We play classical music continually throughout the day in the Joanie Bernard Cat Center here in Sharonville," says Mike Retzlaff, VP of Operations. "We know the value it has on reducing stress and anxiety for our animals while in a shelter environment."

Research has proven that the benefits of music on pets include improved sleep, reduced barking, improved ability to cope with psychological stressors, and much more.

Catered to the ears of our dogs and cats, there will be string and woodwind instruments to soothe their souls! We've seen how impactful live music has been around the world during the public health crisis and are excited to bring that same joy and positive energy to shelter companions. Please join us on Facebook Live!

Speaking of helping out our shelter animals during this crisis, don't forget to purchase your copy of our Mosaic Poster below. There's still time to get one for you and support our animals!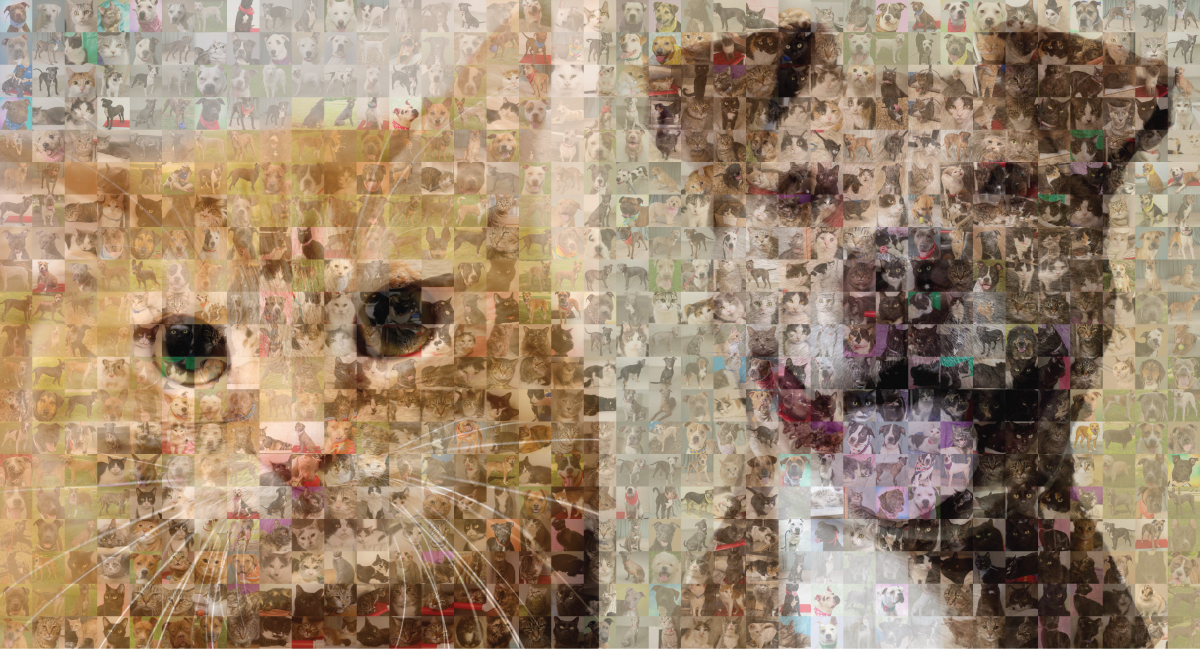 Nearly 12,000 animals enter the SPCA Cincinnati's shelters on a yearly basis. This picture is made up of 740 pictures of the SPCA Cincinnati's adoptable pets as a reflection of the number of animals who find comfort at the SPCA Cincinnati on a given day until they find their "furever" homes!

Sponsor an SPCA animal through a virtual tile picture - $25 a tile. Each tile purchased gets you a poster!

Thank you for your support and for helping us continue to Care Through The Crisis of COVID-19.

Questions? Please contact Trent Owens at towens@spcacincinnati.org or phone: (513) 426-2216.